He was impressed by what he saw as the prisoners' efforts at true rehabilitation.. He has lived in Taiwan, South Africa, Namibia and Thailand, among other places, but this time he came back to the U.S. "From the top of the river down, I would find communities who are rallying around a central cause or theme, putting their best foot forward," he told me, "whether it be Mark Twain, literacy, or fighting cancer."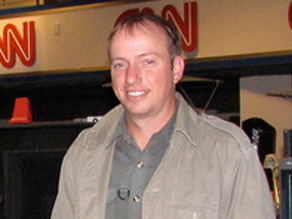 Team iReport had a very special visitor last Wednesday: globe-trotting iReporter Neal Moore. But one highlight of his trip took him by complete surprise: his visit to the Louisiana State Penitentiary, surrounded on all sides by the mighty Mississippi. for one of the biggest journeys of his life: a four-and-a-half month canoe trip down the Mississippi River from Lake Itasca, Minnesota to New Orleans, Louisiana, on a mission to iReport the positive stories he found along the way. Click here for more of CNN's special coverage of his journey, and watch for him on this month's edition of "iReport for CNN" on CNN International.
Posted by:
"It was sort of life-changing to go in there and to meet people who are in prison like this who are stepping up and accomplishing something through communication," he said.
hhanks // December 15, 2009
Category: stories
Regardless of where he went, Moore left feeling more positive about his home country than ever before.
Moore will never forget this trip, and we will never forget meeting him. Fresh from this extraordinary trip, Moore had a lot to tell us about this uplifting experience.
Being a Mark Twain fan, he said he will never forget having the rare opportunity to spend the night in Twain's boyhood home